[Smartphones] | A phone with a projector! | The Moviphone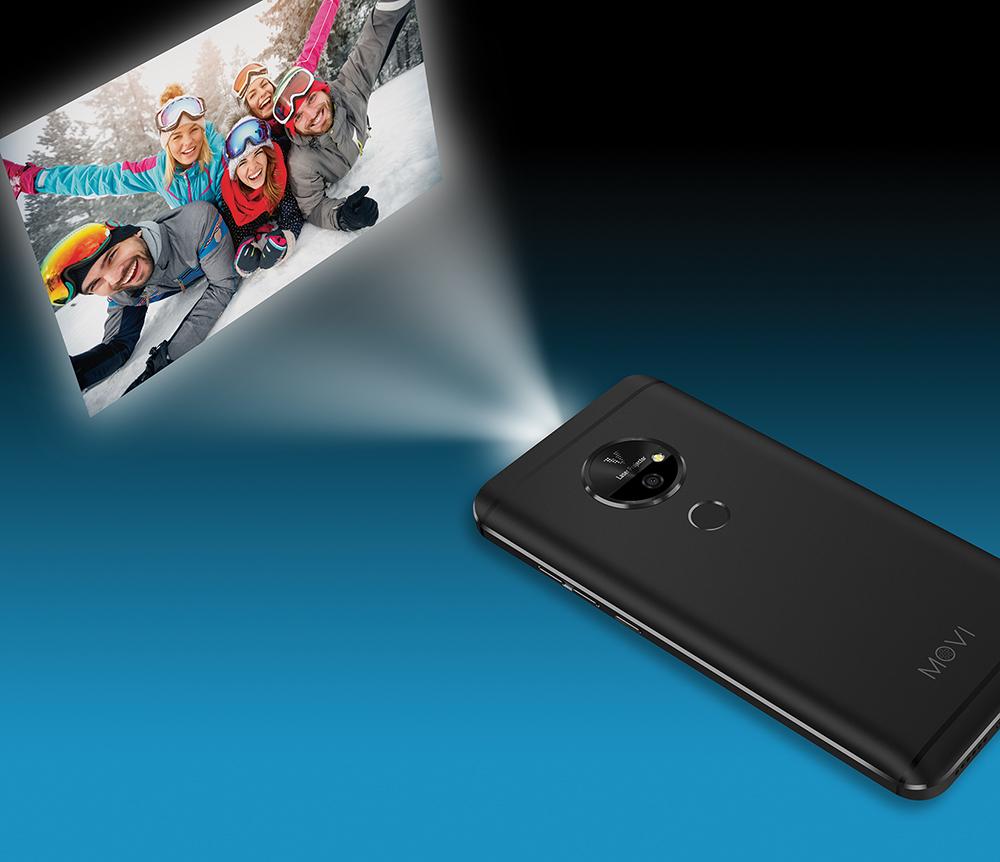 Dope? or Nope?
Plenty of amazing things were showcased at CES, as every year. Synaptics with their fingerprint sensor under the display, Sony with their three new flagships, Razer with their Project Linda, and more. But among these multi-million dollar players of the mobile world, there was one phone which was designed for an incredibly narrow set of consumers. It is called as the MoviPhone (pronounced 'moo-vee-phone').
Projector phone!
Moviphone is a phone with, as you probably guessed, a projector up top. it is a lot similar to the Pico projector mod made by Motorola for their Z phone lineup. Let us take a bit more detailed look at this weirdly specced phone and see if it even has a place in the modern smartphone market of 2018.
Spec wise, the moviphone is strictly low-end to mid-range.
Powered by a Mediatek MT6750V (32-bit) at 4x1.5 GHz + 4x1 GHz).

Mali T860 MP2 GPU

3 GB/32 GB or 4 GB/64 GB memory combination

A massive 4000 mAh battery

13+8 mp cameras with LED flash on both sides

A 5.5 inch 720p IPS display panel.
Like I said before, by no means s this phone trying to be a flagship. Although they say a lot of great things about it on their website, boasting about how the new Mediatek Image signal processor provides "DSLR like" photos and what not. I just 'LOL'ed at that and kept scrolling. So should you!
But the main feature of this phone is the projector unit on top.

It has the same 50 lumens brightness as Motorola's offering with the Mod. It works on lasers and the phone gives an estimated battery of about 4 hrs on projector mode.
Like any common projector, you can cast any content on your phone on to the wall or any other surface with the projector up top. The projected window can range from 12 to 200 inches diagonally. There is another version of this phone that uses DLP (Digital Light Processing) technology for projection. It essentially uses tiny mirrors for light projection. We will see that one in Q2 of 2018!
Not for everyone!
In all honesty, this phone is not going to win the CES innovation awards, or the peoples' choice awards anytime soon. But it definitely is a cool option for anyone who is considering a backup device (of sorts), or maybe a media hub which also has communication features of a phone and other benefits of Android N.
A collector's item?
A completely unlocked 128 GB Moviphone will run you 599 USD. That is a crazy price for the specs. But like I said before, this is a phone meant for a VERY short line of consumers, who appreciate the phone for its singularity and uniqueness, rather than the sheer value for money which most of us care about. To them, it makes all the sense in the world to give the Moviphone a shot!
Slightly expensive
For more detailed information, head over to their official site here.
If you liked what you saw, go ahead and share it with your friends! Click on the 'share' button below, and give me a follow on Twitter, Facebook and Instagram, if you want to. Have an awesome day.